As our nation struggles with the crisis in youth suicide and mental health, school leaders nationwide are investing in tools and programs to help protect students and support well-being. Gaggle is a recognized leader in helping K-12 districts manage student safety on school-provided accounts, and our dedicated Gaggle Safety Team helps make what we do possible.
Currently serving 5.5 million students at more than 1,500 school districts across the United States, Gaggle ingests an incredibly large amount of student content throughout the school year. This content is analyzed by our technology and reviewed by the Gaggle Safety Team to find the students in crisis who need additional support.
Here's how we supported our K-12 district partners during the 2020–21 school year to help safeguard their students: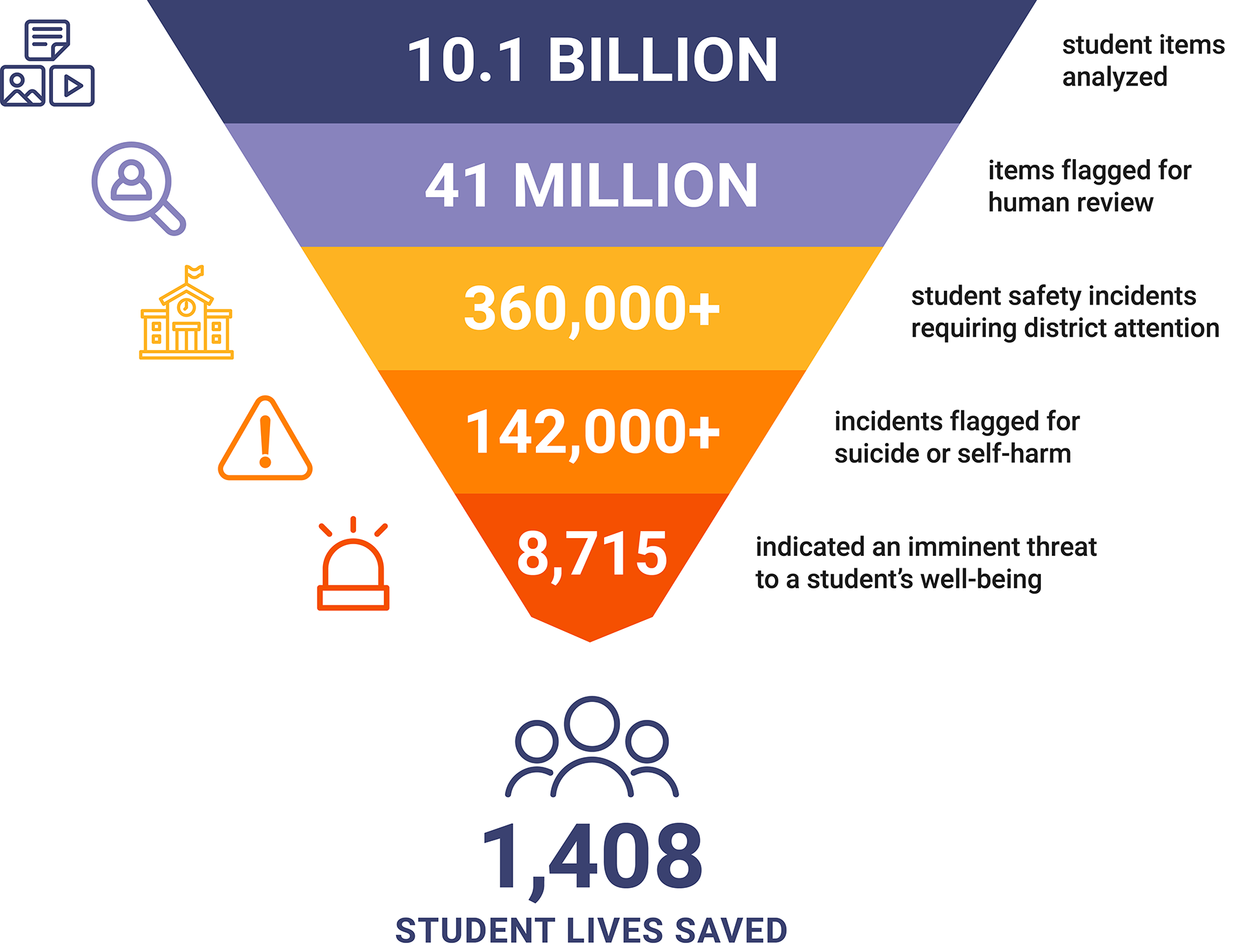 By combining artificial intelligence with human intelligence, Gaggle is able to provide real-time monitoring to help districts identify struggling students. When our technology identifies something concerning—like the use of a specific keyword, flagged phrase, or troubling image—that content is then reviewed by a minimum of two tiers of Gaggle Safety Team members. The Gaggle Safety Team proactively alerts school officials when students show signs of self-harm, depression, thoughts of suicide, substance abuse, cyberbullying, unhealthy relationships, and credible threats of violence against others.
With more than 41 million student items requiring human review for additional context during the 2020–21 school year, we need to have a large "army" of individuals who are available at all different times of the day and night to be able to quickly respond to the urgent needs of students across all time zones. Our team consists of hundreds of safety representatives who review the alerts coming from our technology around the clock. The alerts are then further analyzed by a core group of trained safety professionals in order to verify the content, understand the context, and determine the level of severity.
Our current response time for the most serious student incidents—those that reveal an imminent threat to student well-being—is around 15 minutes. This rapid response would not be possible if it weren't for our incredible Gaggle Safety Team. Furthermore, Gaggle would not be able to safely and effectively do what we do without this human element.
Gaggle has been helping K-12 districts keep students safe for more than two decades, with schools across the country turning to Gaggle Safety Management to enhance their student safety efforts for the past 12 years. Our system works. What we do keeps children safer, and we're proud of how we accomplish this—and the dedicated team members who make it all possible.