School leaders have an ironclad legal requirement to ensure student safety and privacy when using online tools for learning known as CIPA, the Children's Internet Protection Act.
Without appropriate controls and a realistic understanding of student online behavior, use of communication and collaboration tools on school-or district-provided devices such as Chromebooks can create legal minefields for school districts, as well as unsafe or even dangerous environments for students.
Earlier this year, we worked in partnership with Project Tomorrow to ask students and K-12 administrators interesting questions about their online life and what happens using their schools' collaboration tools.
Not surprisingly, schools or districts are providing their students with a range of different mobile learning devices.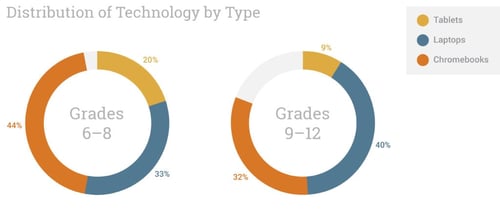 Student access to Chromebooks has increased dramatically in schools nationwide over the past two years. For instance, there's been a 52% growth in Chromebook usage for students in grades 6-8 and a 100% increase at high schools since 2015.
"It's fascinating to see this growth," said Dr. Julie Evans, Chief Executive Officer of Project Tomorrow. "As we see this increase in Chromebooks, we're seeing a corresponding decrease in the number of students using laptops, tablets or going down the hall to a computer lab to access technology."
The increase in adoption of Chromebooks throughout K-12 has also led to schools and districts adding more cloud-based learning tools like G Suite for Education and Office 365. In fact, district administrators indicated in the Speak Up survey that over the past year, they'd implemented cloud-based learning tools (87%) more than any other digital initiative, including online assessments (82%).