Posted on December 7, 2016 by Curran Dee and Marialice B.F.X. Curran, Ph.D.
Our story as a mother-son digital citizenship team began long before we created our combined @CurranCentral account almost a year ago. We've been learning side-by-side together for years.
As an associate professor and the faculty member on record for a university's educational technology program, my toddler was always an integral part of my teaching. Sometimes Curran attended classes, and he was always interested in what I was doing at home as I prepared each week for my classes. On many occasions, he made an appearance when I held class online.
Our approach to online safety has always been a two-way street, which includes constant communication as the key to our success. All family rules apply for all family members (regardless of age). When we say goodnight to our devices, this also applies to the parents. We never want to send the message that the first thing we do each morning and last thing we do each night is to say hello/goodnight to a device.
We emphasize that being in the moment and being present is the most important thing we can do. Empathy is the main ingredient in all our conversations. We talk a lot about the person next to us, as well as across the screen. We put these words into action and, as a mother/son team, we co-moderate Twitter chats on digital citizenship and student voice.
Our perspective has always been on the positive: what to encourage, not just what to avoid. As a mother/son team, we are determined to model for others how to turn negatives into positives and help create problem solvers and justice-oriented digital citizens. We are learning more than just the rules for safety; we are learning how to navigate the world of social media in today's interconnected global world.
As a direct result of being a part of this learning journey together, Curran has started DigCitKids, digital citizenship for kids by kids, as a way to amplify student voices and further highlight the positive ways K-12 students are using social media for social good. In a recent TEDxYouth talk, Curran shared his story:
DigCitKids is an opportunity to be a connected learner by sharing your voice with the world, solving problems and creating solutions, empowering other kids because our online actions can travel around the world to help other kids. President Barack Obama asked, "I want us to ask ourselves every day, how are we using technology to make a real difference in people's lives?" DigCitKids wants to ask you, "How are YOU using technology every day to make a real difference for your community, other kids and the world?
As a mother/son digital citizenship team, we want to make a real difference in local, global and digital communities. We want to continue this critical conversation and go beyond safety. Our youngest learners, as well as our adults, need to know how to evaluate online sources, how to make ethical decisions, and how to humanize the person next to us, around the world and across the screen.
[bctt tweet="Student Online Safety: A Son (and Mom's) Perspective"]
---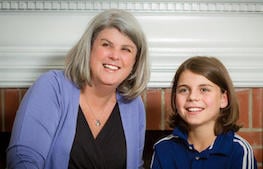 Curran Dee is a fourth grader and Chief Kid Officer (CKO) of DigCitKids who is a connected learner in an unconnected classroom. Consequently, he is passionate about digital access for all students everywhere. As an elementary student, Curran is an international speaker, a TEDxYouth speaker and has also presented online at both EdChange Global and Global Maker Day. He is a student ambassador and student blogger for Rosetta Stone and has guest blogged for Angela Maiers.
Dr. Marialice B.F.X. Curran is the founder of the Digital Citizenship Institute. As a mother and a connected educator, she has served as an associate professor, middle school teacher, principal and library media specialist. As a pioneer in digital citizenship, Marialice developed and created the first three-credit digital citizenship course for teachers in the country. She also co-founded the digital citizenship chat in Twitter (2011) and the Digital Citizenship Summit (2015). She is a researcher, keynote and TEDxYouth speaker who is passionate about student voice and student leaders.
Photo Credit: David B. Newman Photography