More than one out of every three students in sixth through eighth grade are using Office 365 to support their learning, while nearly half of all high school students use Microsoft's online communication and collaboration tools, according to Project Tomorrow Speak Up 2016.
Earlier this year, we worked in partnership with Project Tomorrow to ask students—as well as parents and K-12 administrators—interesting questions about their online lives and what happens when they use tools like Office 365. Thirty-five percent of students in grades 6-8 indicated that they use Office 365. Even more students (45%) in grades 9-12 said they use they use a school- or district-provided Office 365 account.
Unfortunately, students aren't just using Office 365 to support learning. They're often targets of cyberbullying and have contact with strangers when using email or creating and sharing files in OneDrive. Perhaps the most alarming information that came to light in the most recent Speak Up survey is that students are more likely to face these and other harmful situations when using products like Office 365 (as well as G Suite for Education) than those who don't.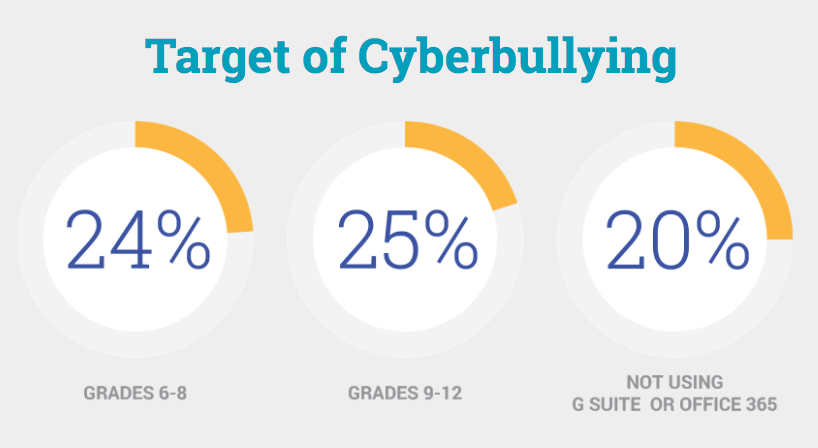 A much higher percentage of students using both Office 365 and G Suite—compared to students not using those tools—believe that they know how to be safe online (75% versus 49% for middle school students, 71% versus 40% in high school). However, based upon the behaviors noted earlier, it seems there's a level of overconfidence and not a realistic perception on the part of students.
The Speak Up survey also revealed that parents share similar concerns regarding their children's use of these now pervasive online tools, including activities that result in them being victimized by others as well as inappropriate student-initiated activities. Parents are less concerned about online behaviors that are self-directed pleas for help or that address needs such as difficult family situations.
[icitspot id="21715" ]
[bctt tweet="Students Using Office 365 More Likely to Be Bullied, Have Contact with Strangers" username="Gaggle_K12"]