Director of Product Management Tricia Sharpton has been part of the Gaggle family for just over a year. In her role, she helps to ensure that Gaggle's products and services are user-friendly while constantly striving to improve the experience for our partners. Thanks to her and her team, Gaggle's offerings continue to grow and improve so that we can provide our partners with better solutions to meet their student safety needs.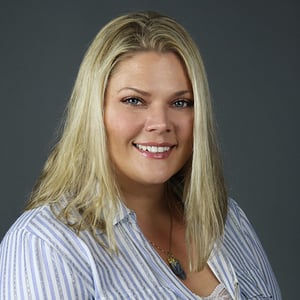 Start date: June 3, 2019
We asked Tricia five questions to get to know a little more about her and her time with Gaggle. Here's what she had to say:
What are three words to describe Gaggle?
Passionate: Gaggle's passion for what we do and why we do this work holds true throughout every team and drives each of our daily lives.
Customer-focused: Every member of Gaggle focuses on what is right for the customer. This isn't just something we say we do—we all wholeheartedly believe that focusing on the needs of our customers is the anchor for our daily work lives.
Fun: Even though we deal with some really heavy topics on a daily basis, Gaggle still always knows how to bring laughter and fun into every interaction we have as a team.
What drew you to Gaggle?
Gaggle's mission hit all the checkboxes for me on both a personal and professional level. The product and service Gaggle is offering is so unique and makes such a direct impact on our community—it's something I absolutely wanted to be part of.
What have you gained from working at Gaggle?
Working with a smaller company allows me to be far more involved on the technology side—I love that aspect. When it comes to the software development and technology side, there's a stronger sense of community in a way that literally saves lives. From a product management perspective, you're always looking to see what the new trends are and how you can be a differentiator in the marketplace, but Gaggle's different. Here, I have this extra layer of how what we do impacts communities in a way that really does better our world. To be able to provide the right level of safety and to be aware of the challenges that students face allows us to offer more to our greatest asset: our children. We're setting them up for success.
What is your proudest moment at Gaggle?
As a product manager, my proudest moment was being able to release a brand-new service: Gaggle Safety Management for Teams. To be in step with a partner like Microsoft—a company with a global presence in the education space—and working closely with them to be able to enhance both of our services is truly special. They do what they do really well, and so do we, and we have this partnership leveraging technology that has saved lives. And I mean that literally—within a day of launching the Teams integration with Gaggle, we were able to identify a situation that resulted in a student life saved. This release immediately impacted a district, a family, and a student, and it's something that I'm really proud of. It was a lot of hard work and it really feels good to see the difference it makes.
What is your favorite memory at Gaggle?
My first week at Gaggle was the summer retreat week, a yearly event when the whole company comes together in Bloomington. At the end of the week, after getting to know my new coworkers and becoming acclimated to the company, I had the opportunity to throw axes with my coworkers. Throwing an ax was something I'd never done before, and doing it with my new team within days of starting my role here was quite the experience! At Gaggle, we're not just coworkers—there really is a family dynamic here. We're fostering deeper relationships all driven toward the same goal, then we're given these chances to really build our character and build our team with fun events.
Tricia noted that being a parent is a strong motivator for her when it comes to her work at Gaggle. Today's students are experiencing a rapid acceleration of online presence, and the awareness and insight that Gaggle is able to offer is something she wishes had been available to her when her own children were in school. "We're talking about an ever-changing social environment coupled with distance learning, so there's not one thing you could make a decision on today that isn't going to change next week, next month, or next year," said Tricia. "Being part of a product and an offering that requires us to be very hyper-focused and diligent into what is going on in students' lives is something I get a lot from."