Here at Gaggle, technology plays a significant role in keeping students safe, as our machine learning watches out for words and phrases that might indicate potentially harmful behavior. Senior DevOps Engineer Tamir Rosenberg has spent his entire career in technology, including the past four years as a member of Gaggle's DevOps team. Along with his team, Tamir works to ensure continuous delivery of our services to help protect 5.2 million K-12 students across the country.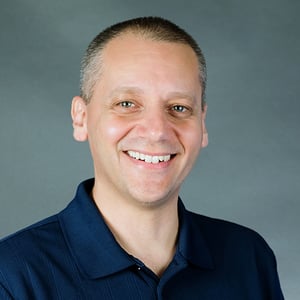 Start date: April 2017
We asked Tamir five questions to get to know a little more about him and his time with Gaggle. Here's what he had to say:
What are three words to describe Gaggle?
Lifesaving: This is the Gaggle mission. It doesn't matter which team you're on—we're all focused on saving lives. Whether you're working on the technical side, the marketing side, or the sales side, we all have the same goal: to help save students. We are each touched by every student life saved.
Innovative: We're always thinking about ways to be better, faster, and more accurate, so we're always looking for new technologies, efficient processes, or other new ways to achieve that. Whenever a relevant new technology is announced, we research it and often test it to see if it can help us improve.
Family: From the moment I joined Gaggle, I felt that it was a family. There is a special connection among team members, and it comes from the top—from the CEO, through management, and to all employees. The way we're working on a daily basis, how we treat and take care of each other. Every employee knows and feels that this is like a family. Everyone has a safe space to talk and contribute here.
What drew you to Gaggle?
It was time for a change, and I looked for something that was more than just technology. Technology exists everywhere—it's easy to find a company where I can work in tech, from a tiny startup to the largest enterprise, but I wanted more. Finding somewhere that offers an opportunity to make a greater impact through technology is unique. Once I started to learn more about Gaggle, I knew this was something more significant than just technology, and I knew that I wanted to be part of that—contributing to something greater.
What have you gained from working at Gaggle?
On the technology side, I'm learning a lot because we're working with cutting-edge technology all the time—we're constantly searching for new ways to be better. On the personal side, it's a different way to work in a company, which I call the "The Gaggle Way." It's a way to work, contribute, learn, and enjoy what you do.
What is your proudest moment at Gaggle?
The first time I heard about a student we saved from harming herself, I thought to myself, "Wow, we did it." I'm really proud of that, and I'm proud to be on a team that works toward this goal.
What is your favorite memory at Gaggle?
One is the same as above—it's one of my first memories at Gaggle and the first time I learned about a kid we helped save. I cannot forget that. The other great memories I have are from company meetings, holiday parties, and retreat weeks. We are remote, so it's great to have these memories of being with my team members, as well as other teams, in person.
Before joining Gaggle, Tamir started to focus his career on cloud technology—a model Gaggle utilizes. It's something Tamir is passionate about, so from both the technology side and a personal standpoint, he's happy to have found a perfect fit for his career. He's also proud to be doing work with a greater purpose. "When we talk about saving students, it's not just a statement—it's real," he said. "There's a student somewhere who is sad now. We can help them."