Lucy Quinonez has spent her entire career focused on education. As a former elementary school educator and Positive Behavioral Interventions and Supports (PBIS) coach, she is firmly grounded in a belief that all children should have access to high-quality early childhood education, safe learning environments, and early intervention. Following her time in the classroom, Lucy transitioned into educational technology, aligning with companies where she could feel that her passions were critical. As a Regional Sales Manager, Lucy represents Gaggle in the Southeast, advocating to keep students in her region safe.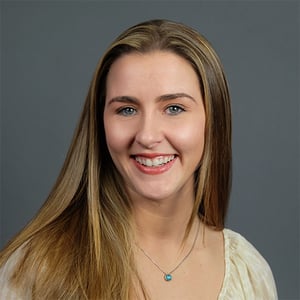 Start date: December 2017
We asked Lucy five questions to get to know a little more about her and her time with Gaggle. Here's what she had to say:
What are three words to describe Gaggle?
Focused: The laser focus of our team each and every day elicits an environment of continuous improvement and commitment for Gaggle's mission to save student lives.
Innovative: As an employee at Gaggle, it is ingrained into us to find moments of innovation over what may seem to be the practical choice. Following the path down a creative idea to land on an outcome that nobody saw coming is what keeps us relevant in our space. Without creating new ways to innovate, we cannot continue to find ways to support school districts.
Reliable: Our district partners can rely on us to always walk side by side with them in all facets of their journey with Gaggle. We strive to make every school district feel supported and successful in our shared goal of keeping students safe.
What drew you to Gaggle?
Throughout my career, I found myself itching to find a place that put a mission before anything else. While I was working for great companies, they weren't always aligned with what I was most passionate about. A former coworker told me about Gaggle—after looking into the company and the role, I was excited at the opportunity to help students on a greater scale. Part of why I got into teaching was to effect real change in my students, which is truly what Gaggle represents. Now, nearly four years later, I still believe that Gaggle's commitment to education and supporting students is stronger than ever.
What have you gained from working at Gaggle?
Transitioning from the classroom to EdTech gave me a greater reach than the four walls of my classroom, and I am so proud to be an employee at a company that quite literally saves students' lives. I know that every person I work with wakes up each morning ready to go to work for the students across the country. It is a true gift to work for a company that is embarking on a national crisis, where our work is part of the solution. I have gained incredible insight into mental health awareness that has translated into my most important role: being a mother to three young kids. Especially this year, I would tell everyone that my kids' mental health takes precedence over everything else. Keeping our lives as normal as possible was my top priority in keeping them balanced.
What is your proudest moment at Gaggle?
What drives me most is the number of students that we're protecting. I couldn't have imagined that in less than four years, I would be part of a movement in my territory that has grown to support more than 840,000 students. It is not lost on me the significance of this reach, and it is only with our incredible team that this growth has been able to happen.
What is your favorite memory at Gaggle?
Gaggle works hard at honoring employees and celebrating accomplishments. One of my favorite moments was at a companywide staff meeting when I was able to deliver an award to a fellow Gaggler for their outstanding work on a joint project. While I was very proud of the project and outcome, highlighting others' hard work was the best part. It is an incredibly fun and fulfilling company to represent!
At Gaggle, Lucy believes she has finally found the place where she can not only elicit change but somewhere she can stay for a long time. "Because we have plans to continue to expand and save more students, I feel like I'm in the right place at the right time," she said. "I also feel like I'm in it for the long haul—it's not just a stopping point in my career. It's a place where I feel more comfortable than anywhere else. We're given the voice and choice to grow and be who we want to be."