Jon VanDenBossche has spent the entirety of his time with Gaggle in Operations, initially on the Customer Support team before moving to the Implementation team. Jon left Gaggle in August 2020 to pursue a new opportunity, returning in November 2021 as a Business Data Analyst I. In his new role with our Business Analytics team, Jon provides data insights that empower our stakeholders to make sound business decisions in support of our mission to keep students safe.
"There were things I missed that drew me back, including the mission and the people," said Jon. "Every company has its own mission, but Gaggle's mission is so clearly defined and easy to get behind. Most are just slogans or statements, but ours is a real thing that's at the core of everything we do. You feel that buy-in from everyone you talk to, and that's not something I felt elsewhere."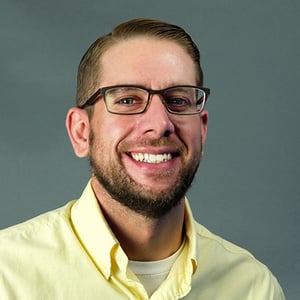 Start date: May 2014 and November 29, 2021
We asked Jon five questions to get to know a little more about him and his time with Gaggle. Here's what he had to say:
What are three words to describe Gaggle?
Mission-Driven: Our mission is clear in keeping students safe. It's at the core of everything we do, every decision we make, and the reason a lot of us get up every morning and are so passionate about what we do.
Exceptional: One of our core values is "Hire exceptional people and let them do their jobs." The people here are some of the most amazing people I've ever had the privilege to work with. I'm constantly impressed by the intelligence and willingness to work together for a common goal. Something that's remarkable to me is that everybody is exceptional at what they're hired to do, but nobody hesitates when it comes to helping out with something that might not be their specialty.
Nimble: On a smaller scale, we always respond well to any challenges we face. On a larger scale, this really ties into our innovation as a company. Gaggle is big enough that we're the best at what we do, but we're also nimble enough to pivot and innovate new ideas to help better serve our customers and fill gaps that need to be met for student safety and well-being.
What drew you to Gaggle?
Initially, I wanted to join in on the fun! I worked for another company in a nearby office building. One day, I showed up and saw a school bus parked outside and noticed people from Gaggle in matching themed shirts loading onto the bus—and I was just showing up for another regular day of work. I thought to myself, "How do I get on that bus?" After looking into what Gaggle did and finding that my skills aligned well, I started looking for open positions. The next time I saw one open up, I applied, interviewed, and the rest is history.
More recently, what drew me back was the mission and the people. I missed feeling like I was making an impactful difference, and I missed working with such exceptional people. Gaggle has the most talented and friendliest group of people I've ever worked with. I also missed the culture and the atmosphere. It's a unique company—I've never experienced anything like it, and I mean that in the best way possible. Gaggle has a culture that promotes individual personalities. That uniqueness brings something to the table that complements everybody else.
What have you gained from working at Gaggle?
I've gained an immense amount of respect and reverence for teachers and administrators who work with students every day. I feel that with all the amazing work they do—especially in the extreme circumstances of the past few years—it's a privilege for all of us to work for a company that cares so deeply about supporting educators and ensuring that students have a safe learning environment.
What is your proudest moment at Gaggle?
I can't isolate a singular event, but what brings me the most pride is seeing coworkers be appreciated and respected for the hard work they do. Whether that's getting recognized through an award they deserve or through a promotion or job change, that's something that brings me a great sense of pride—especially if it's someone I've had the privilege to be a mentor or a leader for. Seeing them achieve their career goals is something that leaves me beaming with pride.
What is your favorite memory at Gaggle?
I actually met my wife at Gaggle! Carrie and I started working here two weeks apart in Customer Service. We became good friends at first, then started dating—we joke that we were the Gaggle Jim and Pam. Living that Jim and Pam story in real life was just as entertaining and memorable as the fictional version.
"The people here are some of the most amazing people I've ever had the privilege to work with. I'm constantly impressed by the intelligence and willingness to work together for a common goal.
Since returning, Jon has quickly settled right back into life as a Gaggler. "I'm very grateful to be able to come back—I was blown away by how everybody welcomed me back with open arms," shared Jon. "It was great to be able to catch up with people, see them all thriving, and see the company thriving as well. The past month has been super memorable and heartwarming for me."