A lifelong learner, Jeri Schreiner has supported all aspects of systems and network infrastructure throughout her career, including technical, software, and end-user support. As Gaggle's Systems Support Engineer Manager, Jeri helps facilitate new customer onboarding, troubleshoots customer configurations, provides internal system support, and acts as the primary liaison between Engineering and the rest of the organization.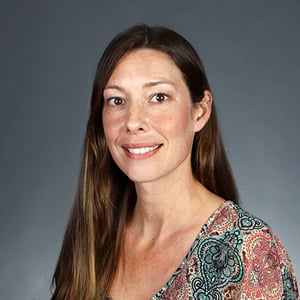 Start date: May 10, 2018
We asked Jeri five questions to get to know a little more about her and her time with Gaggle. Here's what she had to say:
What are three words to describe Gaggle?
Innovative: Since the problems Gaggle receives don't tend to have a blueprint for how to fix them, we have to collaborate in order to find a solution. And most of the time, these solutions don't exist anywhere else, so we have to create something to solve that problem. I am constantly amazed by what our teams can come up with using just a few criteria—just a few things a customer would want or a few problems that an internal team is facing. Within weeks, you have an incredibly comprehensive solution, and that speaks volumes to the types of teams we have working here. It's inspiring and humbling to see how many people come into a meeting with totally different ideas for how to solve something, and we come out with something great—something that's going to help so many people.
Exceptional: We go through a very extensive interview and onboarding process to find the right fit, which means a lot to me and to the other people who work here. Finding the right people is very hard, but then finding those people who will work well on the team—that, to me, is what makes Gaggle exceptional. Not only does each individual person have an amazing ability and awesome traits to offer, but when you put them together with the right team, it's like they can't be stopped. They can do anything. And that's what I think lends to the people here being so exceptional. What Gaggle does is exceptional, but the individual people who contribute to a team—who in turn contribute to the service that makes millions of kids safer every day—that's what really stands out.
Dedicated: At Gaggle, we don't look for the easy way out—we keep pushing. In the face of adversity, the dedication never wanes, so we don't falter from the mission and what our end goal is. We have our eye on the prize without losing our focus or our dedication. We're always on target, and we always have the right way of looking at things. If something gets too hard, we don't fall back—we put in ten times more effort.
What drew you to Gaggle?
I worked in K-12 education in the IT realm for most of my career. When I moved, I had to give up my Board of Education job—they didn't do remote back then! When I left the K-12 technical industry, I moved into the private sector and was not fulfilled. I didn't like the fact that I was dedicating my time and efforts to someone else's bottom line. If I'm going to work long days, I want it to be for a good reason. I set out to look for something fulfilling with a good mission—something I could get behind. Once I learned about Gaggle, I knew they needed somebody like me. The mission was extremely interesting and intriguing to me, so I actually reached out to Gaggle and asked if there were any open positions, and that's how I ended up here.
What have you gained from working at Gaggle?
Aside from a boatload of technical knowledge and exposure to some of the most cutting-edge technologies that are out there, I feel that I've gained a community of professional like-minded individuals who are using their time and talents to work toward a better future for everyone.
What is your proudest moment at Gaggle?
I am very proud that I was chosen to be the manager of the SSE team. It is a tough team to be a part of because of the type of work we do. When it was decided that I was able to fill that role, it made me very proud because I felt like the leadership team recognized how much I care about Gaggle, the mission, and what we do here. Another proud moment was when I received the Core Value award because it's a peer-chosen award. Since it's voted on by other employees here at Gaggle, that was a very proud moment for me. And getting that right after being named manager of my team was a two-fold moment that really filled my bucket!
What is your favorite memory at Gaggle?
During one of our retreats, we learned that one of our software engineers had never watched the Star Wars movies. Our CEO, Jeff Patterson, got us a viewing room to watch all seven movies together in one long run. We sat there for hours watching Star Wars! It was just a passing conversation, but Jeff saw the reaction of the rest of the team and took it upon himself to make it available to us. It was such a fun experience and meant a lot to our team.
"Finding the right people is very hard, but then finding those people who will work well on the team—that, to me, is what makes Gaggle exceptional. Not only does each individual person have an amazing ability and awesome traits to offer, but when you put them together with the right team, it's like they can't be stopped."
With more than 20 years of experience in IT, Jeri believes her true calling is systems support—and she's found her home here at Gaggle. "In my heart and soul, I'm a Gaggler," shared Jeri. "What we do here is so important. Regardless of how you feel about safety and security, there is a need. Mental health is paramount to us having a good and healthy society, and I feel that Gaggle is doing everything it can to push our society in the right direction."