An Illinois native, Corey Tutewiler has been part of the Gaggle family since 2011. He's worked throughout the organization in Sales, Marketing, Safety, and most recently in Operations. Now a Project Manager, Corey's most recent focuses include business scalability, data reporting and analytics, and creating his own poorly sung Christmas albums to give away to unfortunate colleagues at the annual company gift exchange.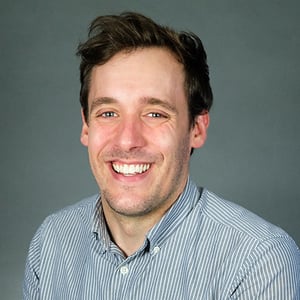 Start date: September 6, 2011
We asked Corey five questions to get to know a little more about him and his time with Gaggle. Here's what he had to say:
What are three words to describe Gaggle?
Welcoming: I've always found Gaggle to be an atmosphere that welcomes all kinds of people from all kinds of backgrounds, provided that you do your job and treat others well.
Talent-Rich: I'm going to cheat and use a hyphenated word. We have a deep roster at Gaggle—I've been impressed with our ability to hire and retain intelligent, talented, and genuinely good people. I feel like I have friends at work, and I enjoy coming in each morning.
Adaptive: A long-standing motto here has been "Evolve or die." We embody this in recognition of the exigency of adaptation, needed to both survive and flourish. We are quick to recognize challenges and opportunities and respond accordingly.
What drew you to Gaggle?
For me, Gaggle was initially a means to another end. Shortly after finishing a master's degree, I needed a job to financially support my PhD work. After three years with Gaggle, my career trajectory changed, and I found myself at home here.
More important than what drew me to Gaggle is what keeps me at Gaggle. In the last eight and a half years, Gaggle has continued to set new challenges before me, surrounded me with leaders and colleagues who genuinely care for me and my family, and provided a source of enjoyment and laughter.
What have you gained from working at Gaggle?
About 25 pounds. But also a lot of perspective—I am confident that, in ways known and unknown, the core values at Gaggle have impacted my own personal values. And I have also been afforded an opportunity to develop myself as an individual.
What is your proudest moment at Gaggle?
A couple of years ago, I was tasked with making other peoples' jobs easier. Through automations and process improvements, I've had the opportunity to help many of my coworkers with their jobs over the past two years, and I'm proud of this accomplishment.
What is your favorite memory at Gaggle?
At ISTE in 2012, I performed "Foxy Lady" at a karaoke bar before hundreds of educators and administrators who were in San Diego for the conference. A few educators even joined me on stage to dance, which only hyped the performance up even more to the audience. I did my best to reenact Dana Carvey's dance from Wayne's World. It went phenomenally well. In my unbiased recollection, it was probably one of the most important and life-defining events for everyone in the crowd, without exception.
Corey's experience has made him an asset to multiple departments during his time at Gaggle. He said, "Gaggle has done an excellent job of putting me in roles that align well with my skills and interests, and I still feel as though I have room for growth here. I appreciate working in an evolving role that brings new challenges daily."