A Safety Representative since 2012, Angie Groth loves the role she plays in keeping students safe—and Gaggle's mission to get students the help they need. Because of the sensitive subject matter the Safety team is exposed to every day, this job can be tough. Angie is motivated by helping students in need, and she especially appreciates receiving positive feedback from our district partners when they're able to get to a student in crisis and provide support before it's too late. "Knowing a student is going to be okay after alerting a district is incredibly rewarding," she said. "It's motivating to hear that we notified them in time, they were able to intervene, and that what we did truly mattered."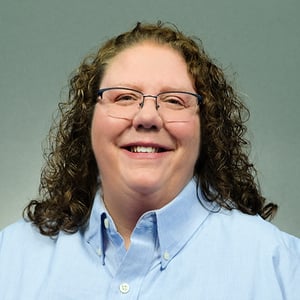 Start date: December 10, 2012
We asked Angie five questions to get to know a little more about her and her time with Gaggle. Here's what she had to say:
What are three words to describe Gaggle?
Required: When my youngest—who has been out of school for two years now—was still in high school, she would talk about how much the school needed Gaggle based on the things she was seeing and hearing. With the way things have changed during the pandemic and how kids are feeling now, Gaggle feels like a requirement at this point to help schools keep students safe.
Family: Even though we're spread out across the country, we're still a family. We all have the same goal to protect and help kids.
Awesome: We work hard. And when we can get together, we play hard. We excel at what we do, and students are always the first priority.
What drew you to Gaggle?
A former coworker who was at Gaggle reached out to me about an opening she thought I'd be a great fit for. When she described what Gaggle was and what the Safety team did, I knew it was something I had to explore. I was raising teenagers—I've seen what their friends have gone through and what they've gone through, so I knew there was a need and I wanted to be part of the solution.
What have you gained from working at Gaggle?
A bigger worldview about what students are going through. I live in a pretty small town, so seeing what goes on in districts all across the country—places very different than where I'm from—gave me a different perspective that's really helped me grow in my role here. I also can't say enough good things about working at Gaggle and being part of this family. Management has always treated me, and the team, amazingly. They understand that we see difficult things and this job can be hard, and they check in on us and take care of us. I genuinely feel like I'm not just an employee—I'm a person they care about. You don't always get that, and it reinforces to us here at Gaggle just how great the company is.
What is your proudest moment at Gaggle?
I remember one urgent situation from five or six years ago. A student had written a very thorough suicide note late at night, sent the email, then followed up with a second email stating that she had taken some pills to carry out the act. It took a while for me to get hold of someone at the district, and I believe I also had to reach out to law enforcement. When I finally got through to someone at the district, they had trouble finding the student. 40 minutes after initially flagging the note, we were still trying to locate the student. It was tough. The emergency contact at the district was very upset, and we were both feeling desperate at that point. He was finally able to reach the mother, who assured him that her daughter was asleep. He insisted she wake up her daughter, and they were able to get her to the hospital to receive the help she needed. It was a huge relief to know she would be okay.
When she was released from the hospital and learned about what had happened, she wanted to talk to the woman from Illinois who had found her note and saved her. When the school told us this, it made me so proud to do what I do.
What is your favorite memory at Gaggle?
There are so many! Between the great coworkers and the parties, there's been a lot of great memories over the past eight years. My very first holiday party here was a great introduction to how much Gaggle appreciates us and wants us to have fun when we're able to get together. It's nice to be able to hang out with everyone and make those connections. We definitely all missed that last year—I'm looking forward to when we're finally able to get together again.
Angie especially appreciates the unique culture here at Gaggle and knew it was a special company after falling ill. "When I was sick, people were checking in regularly. I knew I was missed and that people were concerned," she said. "The best thing about Gaggle is that they care. You're not a replaceable number—you're a human who means something. If you're Gaggle, you're family."