A member of Gaggle's Sales team since 2018, Regional Sales Specialist Alex Danko is passionate about partnering with schools and districts in Georgia, Illinois, North Carolina, Pennsylvania, and South Carolina to keep students safe. When Alex first learned about Gaggle, he was working in banking and realized he had a knack for working one-on-one with people to help them achieve whatever goals they have in mind.
His wife Ashlie started working on Gaggle's Customer Service team while they were dating, introducing him to the company. After learning about what Gaggle does and how we strive to keep kids safe, Alex knew it would be a good fit for him. "Banking wasn't for me!" said Alex. "I started working for Gaggle, and things just got better. We actually got engaged the same week I got the job!"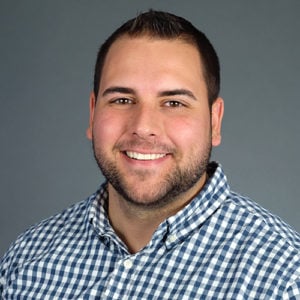 Start date: July 9, 2018
We asked Alex five questions to get to know a little more about him and his time with Gaggle. Here's what he had to say:
What are three words to describe Gaggle?
Extraordinary: When my girlfriend—now wife—started working at Gaggle, she mentioned how great the company was. She told me how they were working to ensure the safety of students from things like suicide, self-harm, and bullying. My first reaction was, "There's a company doing that?!" That's why extraordinary would be the first word I would use to describe Gaggle.
Confident: I'm a very honest person, and I really couldn't do my job if I wasn't confident in the solution Gaggle provides to school districts. When I say that we are the best in student safety and when I talk about the services and solutions we can provide to schools, I am fully confident that they are in good hands with Gaggle. If I didn't believe in the mission or the service we provide with 100% certainty, there is no way I could get up every morning for work.
Honorable: Gaggle's determination when it comes to keeping students safe makes me very proud to work for this company. The best way to sum this up is by looking at some of our company's core values: Listen more than you talk; Treat people well; Provide great customer service, even if it doesn't make financial sense; and, most importantly, Work hard, make it better. Those four values are pretty honorable in my book. Jeff Patterson (Gaggle's CEO) doesn't care solely about the company's bottom line and how financially successful we are—he legitimately cares about the schools and students we are helping. That means a lot to me. I get to work for a company that truly cares and wants to make the world a better place.
What drew you to Gaggle?
My wife, Ashlie. The more she told me about the company and what Gaggle does, the more interested I became. When you hear about a company working to keep kids safe, how could you not want to get up every day and work there?
What have you gained from working at Gaggle?
I've gained a better understanding of what's going on with students today. I graduated from high school in 2012 and college in 2016, and I can tell you the landscape for students has dramatically changed. I was still in a generation where I had a flip phone, and the extent of being on a computer was to type up a paper for school. Social media was a pretty new thing back then, and working digitally wasn't the standard that it is today. When I'm comparing the experiences that students have today to my own, I can see how there is more anxiety caused by the constant bombardment from online activity, which has led them to also use the digital hallways schools are providing for more than just schoolwork.
What is your proudest moment at Gaggle?
This just happened a few months ago, after three years of being with the company and bringing Gaggle to districts and schools in my territory. I had been in talks with a cyber school for a while where the tech director was looking for a solution to help keep their students safe. Within 24 hours of their services being turned on, a student safety incident was flagged for suicide. The school's emergency contact was able to act quickly and get the student the help they needed. After telling me about the situation, my contact said, "Be proud. Because of you, this kid is still around today." It's always hit me that this is our mission here at Gaggle—that's what we do, we save lives—but I truly felt like I saved a life after hearing that. I've never felt that before.
What is your favorite memory at Gaggle?
I don't think I can pick just one thing. Every day, I get to work at the same company as my wife—I think that's pretty cool. I've also made some of the best friends I've ever made in my life right here at this company. There are people I would turn to with anything in my personal life. One of my teammates was even going to be in my wedding before COVID-19 changed our plans! I haven't had this at any of my other jobs. We really do hire exceptional people, and they're some of the best people I could ever encounter in life.
"When I say that we are the best in student safety and when I talk about the services and solutions we can provide to schools, I am fully confident that they are in good hands with Gaggle. If I didn't believe in the mission or the service we provide with 100% certainty, there is no way I could get up every morning for work."
Alex believes that the people he's met at Gaggle have made both his personal and his work life better. "I talk in quotes a lot, and this quote from Paul Walker sums me up pretty well," shared Alex. "You know, all that really matters is that the people you love are happy and healthy. Everything else is just sprinkles on the sundae."