Suicide rates among children in the United States have steadily increased and it is the second-leading cause of death for adolescents ages 13-18. In fact, from 2000 to 2019, the suicide rate for individuals aged 15 to 19 increased from 8.1 per 100,000 to 11.8 per 100,000.1
As we approach National Suicide Prevention Month this September, it's important to acknowledge the impact of suicide on schools and the steps administrators can take to raise awareness and implement prevention strategies.
The Impact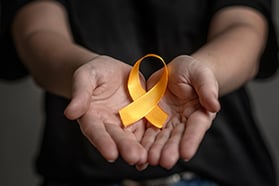 Suicide has a lasting impact on elementary schools.
When a student takes their own life, the entire community is left grappling with intense emotions. Students, teachers, and staff are deeply affected, with younger children finding it particularly difficult to process and express their feelings, leading to increased anxiety and fear.
This is why educational leaders must take the opportunity to address mental health early on and foster open discussions about emotions and well-being. While it may not be the easiest topic to discuss, research shows that most children who die by suicide make a suicidal statement prior to the day of their death (79.6%). What's more, young children who attempt suicide are six times more likely than their peers to attempt suicide again in adolescence. This is why early detection and intervention is so critical.2
Steps Towards Safety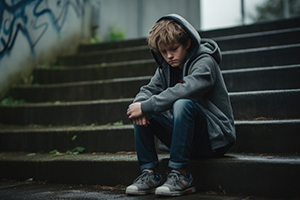 Educational leaders, CTOs, and school administrators hold the key to making a lasting impact on the safety of K-12 students. Equipping your institution with the right resources and solutions is an important next step.
Districts across the U.S. have partnered with Gaggle to take the next steps in preventative measures. Gaggle's suite of innovative services complements district efforts by helping foster a safer environment for students.
In addition to enhanced monitoring software, the Gaggle Safety Team evaluates each incident carefully to determine appropriate next steps. Since the start of the 2018-2019 school year Gaggle has identified 2,491 suicide notes.
What's more, Gaggle's Safety Team issued 98,611 PSS alerts. 43,579 were related to suicide/self-harm and 22,438 to violence against others that same year. Of these PSS alerts, it is estimated that Gaggle's timely alert saved the lives of 5,790 students during the past 5 school years.
By leveraging Gaggle's advanced technology, administrations can implement proactive measures to identify and address potential risks related to student well-being.
Recognition and Prevention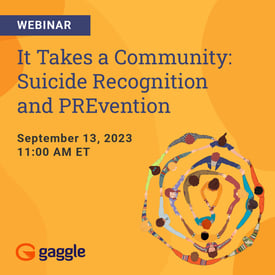 Join our upcoming webinar, It Takes a Community: Suicide Recognition and PREvention, on Wednesday, September 13, from 11:00 AM - 12:00 PM ET to learn about the early warning signs of distress in students struggling with mental health. Guests Chief Thomas Trawick, former Chief Safety and Security for Clayton County Public Schools, Alan Mednick, suicide prevention and mental health advocate at LivingWorks, and Dr. Lisa Strohman, psychologist, attorney, author, mother, and founder of Digital Citizen Academy, will join Gaggle in discussing how preventing tragedy truly does take a community.
---
1 Hedgegaard, Holly. "Products - Data Briefs - Number 398 - February 2021." CDC, 19 February 2021, https://www.cdc.gov/nchs/products/databriefs/db398.htm. Accessed 28 July 2023.
2 "Understanding the Characteristics of Suicide in Young Children." NIMH, 14 December 2021, https://www.nimh.nih.gov/news/science-news/2021/understanding-the-characteristics-of-suicide-in-young-children. Accessed 28 July 2023.