During the 2020–21 school year, our data revealed more than 60,000 incidents flagged for nudity or sexual content—a 151% increase from the previous year, rising from 46 incidents up to 116 incidents per 10,000 students. Student safety incidents flagged in this category span a wide range of activities, such as sharing nude photos, contact with sexual predators, discussing sex acts, threatening sexual assault, or even revealing instances of rape and incest. This uptick in explicit content during the last school year included materials involving minors, which we report to the National Center for Exploited & Missing Children (NCMEC).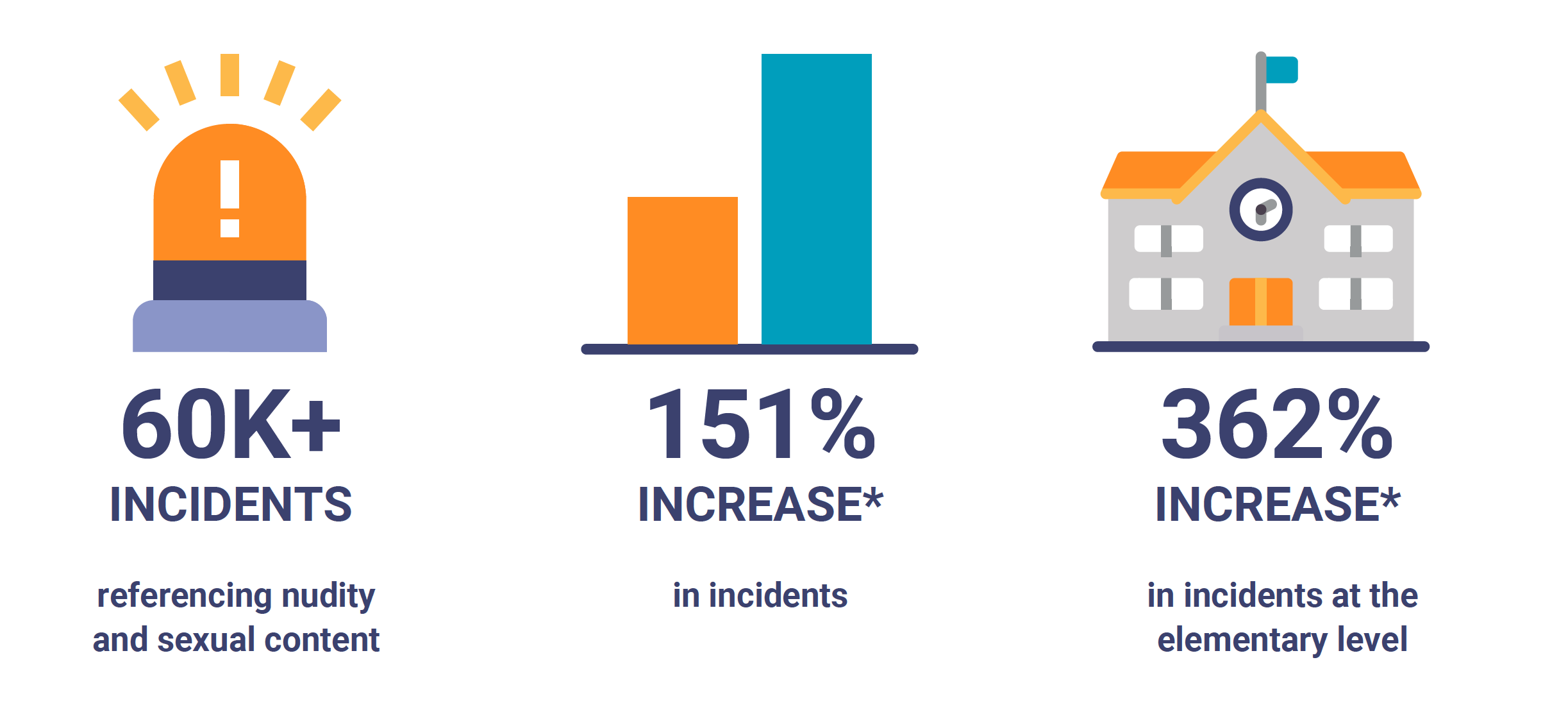 "Social media platforms need to be held accountable for this," said child psychologist Dr. Lisa Strohman. "They have allowed the porn industry to integrate with their media platforms, training our children to become more sexualized daily and offering online predators more access to our children."
A popular misconception is that these incidents are only happening in the higher grade levels, but our data shows that even students at the elementary level are participating in these activities. Incidents involving students at this young age level increased by 362%, from nine incidents up to 44 incidents per 10,000 students. Throughout the duration of the school year, we reported more than 6,800 cases to NCMEC.
"We had a student who was having an inappropriate relationship with an adult, meaning a 30-something-year-old adult ... and we found that, we were able to intervene, and were able to get that child some help and report this individual."

Michael Kuhrt, Superintendent, Wichita Falls ISD (TX)
Want to learn more about what Gaggle discovered during the 2020–21 school year? Read our Through the Gaggle Lens: The State of Student Safety report to see the latest data, gain insight into student safety and well-being, and learn how this year's trends compare to the previous school year.
*Increases reflect incident rates per 10,000 students compared to the 2019–20 school year, accounting for growth in Gaggle's business.