Lisa Prescott comes from an educational background, previously working as a classroom teacher and district administrator as well as at the state department level. As a Regional Sales Manager at Gaggle, Lisa helps support the needs of K-12 school districts in Alabama, Kentucky, and her home state of Tennessee.
After teaching for eight years, Lisa realized that becoming a principal or superintendent wasn't the right path for her career. She was recruited by a neighboring district for a technology facilitator position, then was asked by the superintendent to step into an open tech director role. "I said, 'I don't even know what those blinking lights are in the closet!' and he responded, 'Well, that's what leadership's all about. You'll figure it out, and you'll find the people to help you.' So that's what I did," shared Lisa. "I had a lot to learn on the technology side, but it was a wonderful experience. Everything I've done since then has brought me to where I am now."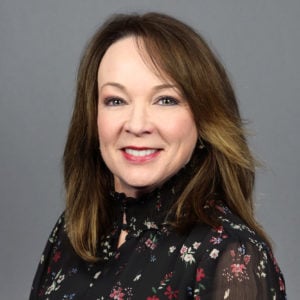 Start date: January 21, 2019
We asked Lisa five questions to get to know a little more about her and her time with Gaggle. Here's what she had to say:
What are three words to describe Gaggle?
Innovative: One of our core values is "innovation over perfection." Since we live in the tech space, innovation is paramount to what we do. And being innovative in this space where other companies try to imitate what we do makes me very proud to work for Gaggle. We do what we do best because it's our focus across the company—and we do not stray from that. We're also making constant improvements by partnering with our districts and listening to their needs, which is an amazing part of our innovation.
Mission-Driven: Our mission and purpose to keep kids safe and help districts provide a safe and civil learning environment is felt across every department in our organization. Another core value of ours is "provide great customer service, even if it doesn't make financial sense," and that's a prime example of how Gaggle is mission-driven.
People-Focused: Our schools are growing more concerned with student safety and mental well-being, and at Gaggle, that's all we do. We have hundreds of safety representatives right here in the United States who are focused on reviewing all of the concerning student content flagged by our technology around the clock—making those vital calls when minutes matter.
What drew you to Gaggle?
I was working at the Department of Education in Tennessee, and another office within the department was hosting a safety symposium. The conversation was driven by three strong tech directors from across the state, and they shared how the implementation of Gaggle in their districts had made such a difference. I had previously been a tech director, and I was blown away by a service that could do what they were saying Gaggle did to help identify kids in crisis. I went back to my desk and did some digging, and I couldn't believe that everyone didn't already know about Gaggle and what it could do.
Not long after that, I received a call from a colleague who said Jeff Patterson was looking for somebody to cover the state of Tennessee and asked if I'd be interested in talking to him. It was a company I truly cared about digging deeper into, so I immediately set up the call. And when you talk to Jeff, you're immediately drawn in because you can feel his passion, enthusiasm, and purpose. His life purpose is to protect kids in this digital playground that we now find ourselves immersed in. He told me some of Gaggle's success stories, and I was hooked.
What have you gained from working at Gaggle?
Working in sales with most companies it's feast or famine—it's all about the dollars and the numbers. That's just not our focus here. We really do equate sales with lives saved. We keep our focus on the mission, and that's what gives me a purpose. Gaggle is not as much about gaining market share—we truly are focused on school safety and mental well-being for both students and educators.
What is your proudest moment at Gaggle?
Three days after turning on services in one of the districts I worked with, I received a call about saving a student's life. When I saw the call coming through so quickly after implementation, I thought something had gone wrong, or he was unhappy with something. Instead, the customer let me know they had saved a kid's life the previous night after Gaggle alerted them about a suicide note. As an educator, he recognized how well-written the note was and knew that with the right support systems in place, they could help steer her in a direction that could completely change her life.
What is your favorite memory at Gaggle?
There are so many! One that stands out to me happened during the first summer of the pandemic. Our team lead had us all take a class around ACEs (Adverse Childhood Experiences) training. I loved that because I had been removed from the classroom for many years, and this course got me back in touch with the conversations that educators are having. It also helped me to bring into focus again the "why" of what we do. When we've got those tools in our toolbelt in the same language that our educators are speaking, it helps us to hone in on those conversations. I've had a hole in my heart ever since I left the classroom because of that personal connection that I had with kids, and that class helped me feel like we really are part of everyday life for our districts.
"We keep our focus on the mission, and that's what gives me a purpose. Gaggle is not as much about gaining market share—we truly are focused on school safety and mental well-being for both students and educators."
Lisa has spent her entire career in education and EdTech, and she loves that her role at Gaggle helps her feel so connected to students again. "I'm more passionate about this job than anything I've done since I left the classroom," shared Lisa. "It's the first job where I feel like I have a direct connection with students again. I see a former student in every success story—that's what drives it home."