Kaitlyn Schlesinger's career has been heavily focused on education. With a passion for education and social impact work, Kaitlyn started her career in non-profit, sank her teeth in while working for Washoe County School District in Nevada, and now strives to enhance the safety and well-being of students across the country. As Gaggle's Director of Therapy Services, Kaitlyn is responsible for overseeing the development, launch, implementation, and expansion of Gaggle Therapy, our new teletherapy service that matches students with state-licensed therapists for mental health support.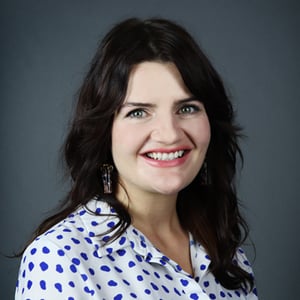 Start date: August 5, 2019
We asked Kaitlyn five questions to get to know a little more about her and her time with Gaggle. Here's what she had to say:
What are three words to describe Gaggle?
Impact-focused: What we do at Gaggle is always focused on how we can help the most kids. We're a very mission-oriented organization, and every aspect of the company is focused on that mission.
Student-centered: We are constantly talking about students—it's ingrained in our DNA. It's part of what makes our solutions so effective, it's why people are so passionate about working here, and it's the reason why we have so many former educators, administrators, and education personnel working here. At the end of the day, that impact-focused work wouldn't be anywhere without our student-centered intentions.
Innovative: We're on the cutting edge of education technology. A lot of companies say that, but Gaggle really is. We've been in the business of innovating student safety for over 20 years, and we're constantly looking for new ways to improve the services we offer by listening to understand what our partner districts need and leveraging technology to adapt to what those needs are. It really makes us a cut above the rest—it's one of the reasons I'm proud to work at Gaggle.
What drew you to Gaggle?
I have always been mission-driven as a person and as a professional. When I learned about the work Gaggle was doing, I couldn't stay away.
What have you gained from working at Gaggle?
So much! It's been a wonderful experience. I've developed a phenomenal network of educators and other professionals who are as passionate about serving students as I am. I've also found an organization that is comfortable with identifying your potential and does whatever it can to help you maximize that potential. I've gained advocates and I've also gained friends—and having work satisfaction is always a plus!
What is your proudest moment at Gaggle?
Launching Gaggle Therapy! This service is so needed right now. It was such an amazing opportunity to take this concept, work very closely with our CEO, Jeff Patterson, and build it from the ground up to create something that is serving kids across the country with their mental health needs.
What is your favorite memory at Gaggle?
Attending the ERDI conference in Austin last March. It was amazing to sit in a room full of superintendents as they discussed the challenges and triumphs of student safety, to really get to know what districts are facing, and also to be able to collaborate with them on building solutions to support students.
Kaitlyn believes that mental health services are needed now more than ever, which fuels her passion for Gaggle Therapy. "Even before the pandemic, students were suffering," said Kaitlyn. "People, in general, are suffering—kids, teens, adolescents, adults. We all need help."
Gaggle Therapy is helping to bridge the gap in mental health services for students in need. "There are so many benefits that come with implementing a service like this because kids can connect with a therapist from anywhere at a time that's convenient for them," continued Kaitlyn. "Models like Gaggle Therapy are highly beneficial for students, but more than that, they are improving equity and access to mental health services like never before. Because kids don't have to pay for this service, it offers access for any student who needs mental health care. It's a solution that, I think, a lot of people could have never imagined before."
Want to learn more about our new service? Register for our upcoming Everything You Want to Know About Gaggle Therapy webinar on Tuesday, February 16 at 1:00 PM ET.