When Jeremy Robertson came to Gaggle, he found exactly what he'd been looking for: the opportunity to turn his passion for helping people into a career. As the Regional Sales Manager for Iowa, Minnesota, Nebraska, North Dakota, South Dakota, and Wisconsin, Jeremy helps school districts in his region keep their students safe in the virtual environment around the clock.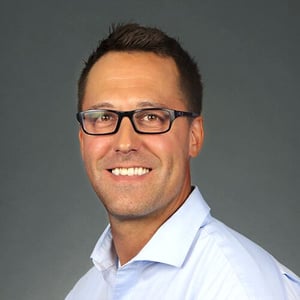 Start date: September 4, 2018
We asked Jeremy five questions to get to know a little more about him and his time with Gaggle. Here's what he had to say:
What are three words to describe Gaggle?
Pioneer: Gaggle has been focused on student safety for over 20 years, and the solutions we offer have saved thousands of lives. I'm incredibly proud of that.
Passionate: Gaggle and its employees are passionate about student safety and it shows. I think everyone here is motivated by Gaggle's mission because we see the difference our company makes every single day.
Innovative: Every day, I see how Gaggle is constantly striving to provide the best safety solution for our partners. We recently added capability for Microsoft Teams—a feature our Microsoft district partners had been asking for. This provides another way for districts to protect their students in the digital environment, which is especially important now that so many students are learning remotely.
What drew you to Gaggle?
Like a lot of other Gagglers, learning about the company made me want to work here. I wasn't actively looking for a new job—I was happy where I was. But after speaking with a former colleague who had made the move to Gaggle, my head quickly turned. I read the company's mission, learned more about how the solution had helped districts across the country, and that was it. I was on board.
What have you gained from working at Gaggle?
I've gained a better understanding of what school districts have to deal with on a daily basis around student behavior. I've also seen just how much time and effort districts put into helping their students—it's top of mind for them. Working here has also shown me a different perspective of what a workplace can be, and I'm really appreciative of this family environment.
What is your proudest moment at Gaggle?
It's happening right now. I'm proud to know how valued our services are in this time of crisis with students having to move to distance learning. We know how difficult this transition has been for educators, and seeing how the company and various teams are supporting school districts across the country during the pandemic is really something special. We've extended our customer service hours to ensure our partners can get the assistance they need, and we have been working diligently to expand services for those who need to cover additional grade levels or tools.
What is your favorite memory at Gaggle?
During a Lunch & Learn event, an assistant superintendent from one of our partner districts shared a moving story about how they were able to save a student's life thanks to an alert they received from us. Knowing I was part of something so powerful made me proud to be a Gaggler.
Since joining Gaggle in 2018, Jeremy has followed his passion, helping school districts across his region with their efforts to increase student safety. "I am blessed to have the opportunity to work for such an incredible company that goes above and beyond its mission in protecting students and saving lives," he said. "It is the most meaningful work I have ever done, and I am proud to say I work for Gaggle."