Bringing two decades of marketing experience to the Gaggle team, Jack Russell (yes, he's heard all the terrier jokes!) primarily focuses on sales enablement. As a Marketing Manager, Jack works closely with the Sales team to understand their needs, delivering marketing tools and solutions to help them succeed in their efforts while also helping to build the Gaggle brand.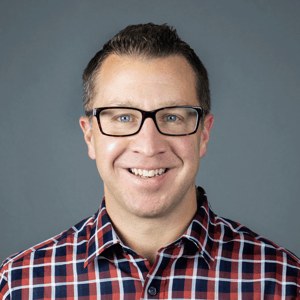 Start date: October 28, 2019
We asked Jack five questions to get to know a little more about him and his time with Gaggle. Here's what he had to say:
What are three words to describe Gaggle?
Genuine: Everyone here is so real in their drive to keep students safe. We all like to see the business grow, but it really is about protecting students and helping school districts.
Adaptive: Looking at how the business has evolved over the past two decades, Gaggle has done a great job of adapting to meet the needs of school districts. We've gone from being an email platform to this robust student safety solution, and now we're looking at new services that are extensions of our mission to keep students safe and protect their well-being.
Fulfilling: I have this incredible sense of fulfillment for what we do that really makes my job rewarding. I know that my work is meaningful, and that is truly motivating.
What drew you to Gaggle?
Having experience in various industries, including education, Gaggle truly gave me an opportunity to contribute to something that's significant and fulfilling. At this stage in my career, I could market or sell anything. The idea that we get to help keep students safe and improve the lives and well-being of those students—and to equip districts with the ability to do that—is incredibly rewarding. It's deeper than just selling or marketing a widget.
What have you gained from working at Gaggle?
Having the fortune to work with people who are really smart, humble, and talented. Everyone here—from Marketing and Sales to Ops and Finance and beyond—is collaborative and driven toward the common goal of protecting students across the country, and finding new and creative ways to enhance the services we provide. Our role in Marketing is to spread the word of Gaggle to more school districts so that we have the opportunity to protect even more students.
What is your proudest moment at Gaggle?
In my role, I have an opportunity to do a lot of storytelling, particularly through video, about how Gaggle has helped school districts. Getting to sit down with district leaders and hear firsthand how we've helped them—to feel the emotion of some of the stories they tell us and how grateful they are to the organization for what we provide to them—is incredibly fulfilling. Bringing these stories to life and receiving positive feedback about the quality of the storytelling and how impactful it is in our efforts to educate others about Gaggle makes me proud.
What is your favorite memory at Gaggle?
Because I—along with many of our team members—work remotely, our 2019 year-end gathering really stands out as a favorite memory during my time here. Being able to connect with everyone in person further cemented my belief that this is an amazing, talented, and collaborative team focused on the safety and well-being of students. Plus, we had an opportunity to hear one of our customers speak about how Gaggle has helped his district. His talk was emotional, but it was also a great reinforcement of why what we do is so important to districts, students, families, and communities.
Jack's prior experience working with sales forces made him a great fit for his role at Gaggle, and his volunteer work as an academic advisory committee member, an All Pro Dad chapter co-leader, and a youth coach aligns with the company's mission to protect the health and well-being of students. "While some of the experiences we cross paths with are concerning, these stories give us the ability to help and make an impact," said Jack. "It makes me proud of the organization and the work that we do."