Franky Belove has always been drawn to teaching. Her first job was teaching dance, where she spent time tutoring and teaching a before- and after-school program, and she absolutely loves working with kids. Her career path steered her into implementation and project management, and that experience brought her to Gaggle as our Implementation Team Lead.
As part of our knowledgable Implementation team, Franky works with our district partners to create the setup and services that work best for their needs. "Each district is unique, so it's a blend between a customer support role and project management, along with some technical aspects," said Franky. "Sometimes we are teachers, sometimes we are advice-givers, and we sometimes can be a little bit of a confidant for them. It's always an interesting process!"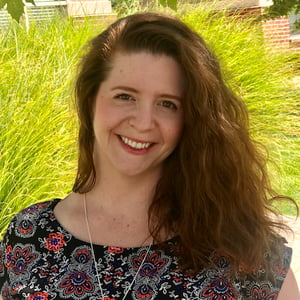 Start date: November 9, 2020
We asked Franky five questions to get to know a little more about her and her time with Gaggle. Here's what she had to say:
What are three words to describe Gaggle?
Unique: Gaggle is really unique in what we do, but also when it comes to the people and the company culture. I have never worked for a company like Gaggle before, and it's been an extremely positive experience. When I first started, I said it felt like the "unicorn" of companies! I immediately thought, "Is this real? Is this a legitimate company?" Because a lot of times, you hear a company simply tout a certain mission or values, but at Gaggle, we all truly live and breathe our mission every day.
People-focused: Gaggle always puts the people we work with first: our district partners and students. What we really strive for is doing the best work we can for them every day. Also, making sure that our teams internally are happy and that people are doing well—not just while at work, but outside of the office, too.
Meaningful: What we do is so meaningful, and being able to work for such a great company is meaningful for me personally as well. Knowing that even just little things we do day to day could potentially help keep someone safe or save somebody's life—a student's life—that's so impactful.
What drew you to Gaggle?
Right away, the first thing that caught my attention was the name! Gaggle is such a unique name, and it piqued my interest initially. Looking further into the company, I saw that it was K-12 related and was intrigued even more. I've worked in education in some form throughout most of my career, and Gaggle's mission and values really spoke to me. The job I had right before Gaggle was related to implementation but in a completely different industry. While I learned a lot there, this role brought me back to where my heart is: helping students. As I learned more about Gaggle, I thought, "What can I bring to the table, and how can I help contribute to that wonderful mission?"
What have you gained from working at Gaggle?
I think a greater sense of purpose professionally. You can get kind of bogged down working nine to five, and it's nice having something that drives you every day. I've also gained new friends and a good company community. I haven't met anybody who I wouldn't want to talk to again. Every single person I've met at Gaggle is interesting, and working with so many like-minded people is really amazing!
What is your proudest moment at Gaggle?
When a district I had been working with let me know about a serious student safety incident that was sent within 10 minutes of their services going live. In my role, we don't always get to see that side of Gaggle. We work with the districts beforehand in order to get Gaggle Safety Management services set up, but we're not always involved in the goings-on on the district side afterward. Having somebody come back to me and say Gaggle had made a positive impact already—on that first day—made me feel really proud. Just knowing that the work I specifically did made that difference—I felt really good about that.
What is your favorite memory at Gaggle?
I will preface this by saying that I joined Gaggle during the pandemic after the company went fully remote, so my in-person time has been a bit limited so far! My favorite memory to date is getting an award at a staff meeting for our "work hard, make it better" core value after I had been here just shy of a year. It was really great to be recognized for something like that—plus, it's always nice to hear that you're doing a good job at a new company, right?
"What we do is so meaningful, and being able to work for such a great company is meaningful for me personally as well. Knowing that even just little things we do day to day could potentially help keep someone safe or save somebody's life—a student's life—that's so impactful."
Since joining Gaggle in 2020, Franky has been able to dive back into what she values most: the education field and helping young people. "I love what we do. Even when there are those tough moments—it happens everywhere, it's life—there's never a point when I don't want to come to work," shared Franky. "And I feel like I found Gaggle at just the right time. I wanted that deeper meaning—I wanted something more, personally and professionally. It just worked out so beautifully."