Technology plays a huge role in what we do at Gaggle. It's the first step in our approach to student safety, blocking potentially harmful items and flagging content that may indicate a student is in distress. Director of Information Technology Justin West manages the teams responsible for the underlying systems that make our applications work. This includes the data centers we operate, our cloud operations, and Amazon Web Services (AWS), as well as the internal Support team that's frequently helping customers.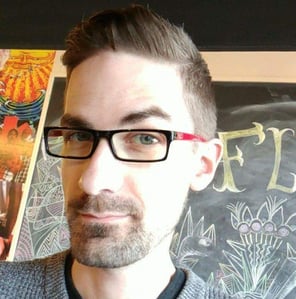 Start date: May 1, 2019
We asked Justin five questions to get to know a little more about him and his time with Gaggle. Here's what he had to say:
What are three words to describe Gaggle?
Innovative: Innovation is a core value here, and Gaggle holds its core values in very high regard because of the nature of what we do. We're always more concerned with finding the right solution to challenges, not necessarily the easiest one, and we're always looking for better ways of doing things—even if what we're currently doing is okay.
Collaborative: The culture here at Gaggle is by far the best culture I've ever been part of in any company—period. Every bit of work that every person does ultimately goes back in support of our mission to save lives, and we all take that very seriously. Even though we have our separate teams, we all feel like we're on the same team because we have the same goal. I never go into a call without emerging with an exact approach for how we're going to solve a challenge because it's so easy to work across teams.
Dedicated: It all goes back to our core mission. The work-life balance is phenomenal, but everyone here has such a sense of motivation to do the absolute best we can because we all feel extremely dedicated to what we're doing. As with many things at Gaggle, it ultimately boils down to saving as many lives as we can.
What drew you to Gaggle?
There are a few reasons I was drawn to Gaggle—the mission is number one. In my career, I've enjoyed the places where I've worked. This is the first place where, as a father, what we're doing strikes so close to home. This is the first job in my career where I truly feel 100% invested in what we're doing. It feels like I'm contributing to something that's adding value to the world and making people's lives better. The thought of coming to work every day knowing that's what I'm doing and that's what I'm going to be working on was exceedingly attractive. And it's proven to be every bit as true as I thought it would.
It's also worth noting the technical soundness going on behind the scenes that makes all of this possible. As a technology leader, you're often coming into situations where you question the decisions of the folks before you or there's a lot of major issues that you need to solve. I was attracted to Gaggle because of how ahead of the curve we are for a company of our size, as well as how well organized and how well architected our infrastructure is. Rather than fixing something that was broken, I had the opportunity to come in and make something that was good even better.
What have you gained from working at Gaggle?
I've personally grown a lot as a leader because of how little siloing there is here between the various teams—it's very easy to hop on a call and talk with anybody at Gaggle about what's going on. It's such an open culture that information transfer happens very easily, and I have a lot of visibility into things that might not be possible at a larger organization. I feel like my knowledge has accelerated, which is, in part, a result of our focus on innovation as a company. I have the freedom to explore new technology, new approaches to solving problems, and new ways to support our customers. That freedom has allowed me to grow tremendously.
What is your proudest moment at Gaggle?
Ringing the bell on the 2020–21 school year and seeing that the improvements we made over the summer were effective. We were processing all of our customers' items quickly—more quickly than we ever have. Knowing that the hard work we put in over the past three months paid off made me really proud because it was so uncertain. With the pandemic and the massive shift to distance learning, our traffic increased 600% year over year.
When the 2019–20 school year ended, we felt like we didn't have enough information about what the next school year would look like. So we had to go above and beyond, making tremendous improvements to our infrastructure to be able to support even more traffic than we had been seeing. To have the new school year start and for our application to be more efficient than ever is a credit to the engineering team and other folks here.
What is your favorite memory at Gaggle?
The holiday party last year. Not just how great of an experience it was—it said a lot about our owner, who really took the time and effort to make that event not your typical holiday party. My favorite moment was when a district partner took the stage and told us a couple of stories about ways in which Gaggle had done just what we always say we want to do: save lives. There wasn't a dry eye around me—it was a very emotional speech and I was very thankful that we had a customer who was willing to do that. Reinforcement like that happens all the time here and it was hard not to get a chill. You can lose sight of that in the day-to-day, but moments like that really ground you and bring you back to the importance of what we're doing. It was an honor to hear from that customer—it was sad to hear the story itself, but uplifting to know that it had such a positive outcome and that I was part of the team that made it happen.
As a tech leader, Justin loves the opportunities he has to try new things in his role at Gaggle. "We're always trying to make sure that we're growing as individuals and as a company in order to keep students safe in the best way possible—which means knowing what's going on and what's new and available that we should be experimenting with," he said. "Lots of experiments don't pan out, which is perfectly fine—we learn a lot in that process too."